Expand Your 3D Video Content Library!
Now you can finally watch anything and everything in 3D as the 2D content streams in realtime through the 3D-Bee™ and out into clean, crisp 3D. Stop paying monthly fees for limited 3D channels, stop buying from the already limited choice of 3D DVDs. Watch everything in 3D! Buy a 3D-Bee to unlock the magic of your 3D TV and projector!

VEFXi 3D-Bee Diamond
Realtime 2D to 3D Converter
Bring theater-quality 3D home! Watch all your favorite shows, movies, video games in 3D. Customize the 3D image to your preferences with 11 settings of popout to mix and match with 11 settings of volume. Discontinued, sold as-is.
Learn more
Requires a 3D TV, a 3D projector or a device that can display 3D. Compatible with 1080p and 720p 3D TVs or projectors that support side by side and 3D projectors supporting 120Hz frame sequential format at 720p. Power supply: 5V DC jack, 1.0A AC adapter 100-240V, 50/60Hz.
UPC 610708548966
Highly customizable 3D
Realtime 3D
Everything in 3D
Price
$
199
.00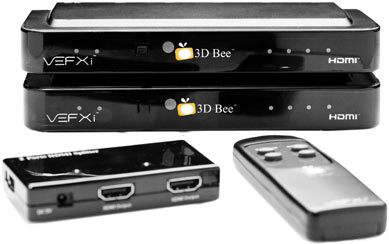 VEFXi 3D-Bee Professional
Realtime 2D to 3D Converter
Set your 3D home theater up with two 2D projectors and the 3D-Bee Professional! Enjoy movie theater-quality 3D at home with bright and large projection. Enjoy the customizability to set your 3D picture preferences whenever you want. Play video games in awesome 3D on a huge screen.
Learn more
Requires two 2D projectors, polarizing filters and a silver screen. Takes 1080p, 1080i and 720p and outputs exactly that without downscaling. Power supply: Two 5V DC jack, 1.0A AC adapter 100-240V, 50/60Hz.
UPC 610708548959
Passive 3D
Large, bright projection
Theater-quality 3D
Price
$
949
.00
LICENSING
This 3D-Bee is licensed for personal home entertainment, restaurants and eating venues, school classrooms, school conference rooms, corporate conference rooms and video-conferencing.
This 3D-Bee is NOT licensed for production of commercial media, commercial broadcasts, use in festivals or other public gatherings, use in public or government venues, use in venues with more than 30 viewers, advertising or promotion.
For customers who want expanded licenses, please contact VEFXi.
Please find further licensing details on the 3D-Bee licenses page.


SHIPPING & HANDLING
We ship via UPS which does not ship to PO boxes. If you only have a PO box to receive from, you need to contact VEFXi directly to place your order, not through our website or Amazon.
For volume orders or special contracts, contact VEFXi directly.
INTERNATIONAL ORDERS
Please let us know if you have any troubles ordering from overseas. Sometimes there is just a block in Paypa that we have to open to allow orders from a country for the first time.
RETURNS
We will accept qualified and conforming products for refund bought exclusively through VEFXi or an authorized dealer and registered through our website within 14 days of the original purchase date. If you wish to return a product you must have registered your product through our website prior to filling out the RMA form. Otherwise your RMA request will be immediately denied.
Once an RMA has been issued, the product must be received back by VEFXi within 14 days after issuance. If a product is received damaged please report the damage to us within 5 days of receipt.
General Guidelines
All products being returned require completion of a RMA Acceptance Form prior to being returned. Product must be in the same condition as when sold, and in the original packaging with the original manual, remote control, and other accessories. A minimum restocking fee of 16% up to 25%, at the sole discretion of VEFXi, will be a charged after the product has been inspected. In the event that the product you are returning does not meet the requirements described in this document, we will photograph the merchandise and packaging, and prepare a detailed summary of our determination as to why the return was denied, the product(s) will be deemed not eligible for return and will be returned to you. Return processing may take up to 10 business days from the time your product is returned.
For those who reside outside the US that used a shipping house within the US, if you require an upgrade or have received a faulty product, we will not ship out your new product until the original has been received along with the original packaging accompanied by the original manual, remote control, and other accessories.
For your protection, we recommend that you insure your return and use a traceable carrier that can provide you with delivery confirmation. 3D-Bee.com shall not be responsible for items returned that are lost or damaged in transit. Postage and handling charges, both to and from our warehouse will be paid by the customer, and are non-refundable. At our discretion, we may reimburse shipping charges related to the return or exchange of defective products inside the U.S. only.